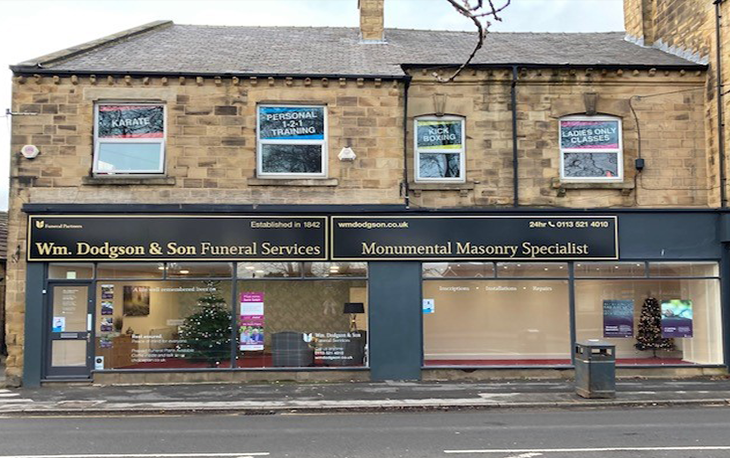 Funeral Partners have opened a new funeral home in an accessible location to support more families at their time of need. Wm Dodgson & Son Funeral Services opened its newest and largest funeral home in Oulton, Leeds.
Martin Dodgson, former Lord Mayor of Leeds and Consultant at Wm Dodgson & Son, said: "We are delighted to be able to support more Oulton and Rothwell families and expand upon the help we can offer with our first ever masonry showroom, as well as two private chapels of rest, a quiet and dedicated space for bereaved families and a spacious reception area in our new funeral home."
Now part of Funeral Partners, Wm Dodgson & Son was founded by William Dodgson in 1842, with his great, great-grandson Martin being the fifth generation of Dodgsons. Martin is still involved in the business and local community, and on occasions still conducts funerals today.
Over the years Wm Dodgson & Son opened additional funeral homes in Halton, Moortown, Middleton Park and Kippax. Now, the funeral directors is proud to have the Oulton funeral home as its newest branch, which will be managed by Funeral Director Toni Kerr and supported by Funeral Arranger Jackie Higgins, who has spent a number of years working at Wm Dodgson & Son in nearby Kippax.
Martin concluded: "This is a significant chapter in Wm Dodgson & Son's history, and I look forward to greeting people at our new funeral home and being here when they need us."
Sam Kershaw, CEO of Funeral Partners, said: "I'm proud to see the expansion of this highly respected brand. As well as honouring their family name, the new branch will give us the ability to serve more families in modern, spacious facilities.
"The expansion is testament to the superb service this funeral team can offer and shows the value brought through investment."
Keep up to date with Wm Dodgson & Son's community activities at www.wmdodgson.co.uk and on Facebook.